An experience like no other!
For the first time, a summer experience where kids can explore their imagination through the art of hand-drawn animation. Yes, we are making cartoons!
Emmy award winning animator Luis Medrano  blends his animation style and his entertainer skills for an experience never seen before in interactive/live sessions designed to ignite your child's creativity. This fantastic summer workshop is a one-week bootcamp for two hours a day, in which the child will learn concepts like frames, layers, ink and paint, and lip sync to name a few, and core animation principles like squash and stretch, ease in and ease out, exaggeration and secondary action, the stuff Disney animators learn about, while having the freedom to master their own minds as they become content creators and cartoon animators.
These classes are taught by awarded animator Luis Medrano himself! So give your child an unforgettable summer camp that is new, fresh, motivating, exciting and creative, taught by a person who knows the craft inside and out and who understands cartoons the way your child does. Your child will still be making animation long after this camp is over!
Camp is one week (5 days).
Sessions are one hour and forty five minutes long each day of the camp.
Price for camp (5 days) is $120 for a limited time.
Regular price is $150 after this Sunday.
The student will need an internet connection to join our class via Zoom.
A mobile device with a free mobile application called FlipaClip (Android y Apple) to unleash the creator within!
An electronic pen is recommended but not mandatory.
Please enter "Group A" (morning)  or "Group B" (afternoon) at checkout to ensure you reserve the spot for the time slot of your preference. 
You will be able to type in the week number and the group of your choice at checkout. Please do so to accurately reserve your seat. Seats are limited to 15 students per group.
All times are U.S. Eastern Time (ET)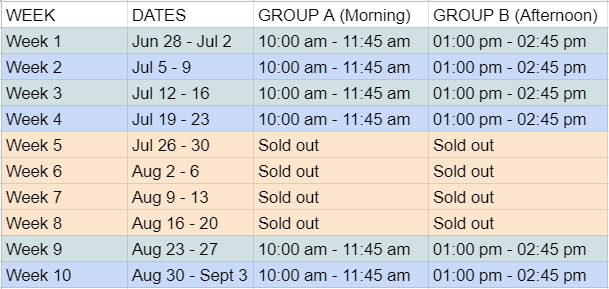 The length of this camp is one week. Please chose only one week and only one group, A (morning) or B (afternoon).
Offer ends this Sunday!
20% off
1. Does my child need experience to attend this camp?
No. kids do not need animation experience at all. Anyone can do this! 
2. What are the ages for this camp?
This camp is for kids ages 9 to 14.
3. What equipment is needed to attend camp?
An internet connection to join the virtual class through the Zoom platform. 
A mobile device, smartphone or a tablet, either Apple or Android, with the free mobile app FlipaClip installed. It is recommended to install Zoom and Flipaclip on different devices. 
An electronic pen is recommended but not mandatory.
4. Where  can an electronic pen be purchased and how much does it cost?
These electronic pens come in all colors and styles, some more expensive than others. They can be purchased on Amazon for as low as $6.99 for a pack of 10. Click here to see an example.
5. How many kids per class?
These are live workshops and as such, there is a class size limit of 15 students per class, allowing opportunity for  direct interaction and support. 
6. How long is this camp?
This animation camp is a one-week experience. Each day of the week we will have a session that runs for one hour and forty five minutes (see schedules). There are two different groups each day: group A has class in the morning and group B has class in the afternoon. Your child will be attending either the morning shift or the afternoon shift, not both, according to the group chosen at registration.
7. Is this camp in English or Spanish?
Luis Medrano is bilingual and currently teaches animation in Spanish and English to children in the USA, Latin America and the UK. However, this summer camp is for Children in the United States and will be taught in English.
8. What's the value of this camp?
The camp is $120 for early birds until May 31st. After May 31st the price will be $150. 
9. Who is Luis Medrano?
Luis Medrano is a NY/NJ based, three-time Emmy and three-time Promax award winner for his work as a designer and animator. He discovered animation when he was 6 years old and has been a professional animator for 25+ years, working for television and advertising agencies. Some brands he has worked with during his career include MLB, NHL, New York Mets, New York Jets, CBS, among others. His love for animation since his early childhood compelled him to develop a teaching system specially designed for children and teens, with the idea that "every child is capable of doing animation, they just don't know it yet". His method focuses on fun, technique-packed lessons that, combined with the intuitiveness of mobile technology, have made his workshops incredibly popular among more than 600 students from seven countries.
Luis has been teaching animation to children and teens since 2019, when he began teaching in-person classes in public libraries in New Jersey. With the pandemic taking over and schools becoming virtual, he turned his workshops into fully virtual sessions. 
10. Is this workshop good for my child's future?
From car infotainment systems to apps on your mobile to the next generation of home appliances, everytechnology is becoming animated and interactive, making animation a growing industry with almost infinite possibilities. This workshop goes beyond animation into the realms of creativity, storytelling and imagination. We can't turn these children into professional animators in 5 days, but we can open their minds to a priceless new way of expressing themselves.
11. Are there other benefits in this camp?
Aside from learning animation, kids will expand their development by learning new skill sets using everyday technology.
A new dimension in expression means children enhance their creativity.
Development of mindfulness and motor skills through art.
Small group interactions so their questions and needs are always attended.
This activity creates a stress-free environment filled with joy.
Come join the experience!